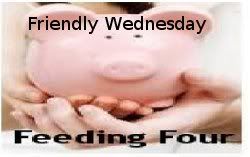 I am participating in Feeding Four's friendly Wednesday. If you are stopping by from there welcome!
We have an 1100 square foot house. With five people and a dog living here things can get a little crowded at times. Without a basement (yes it seems weird but our house built on a slab) we have little in the way of storage space. At one time we used our garage for storage (not for the actual purpose of parking a car) but we have since converted the space into a playroom for our ever growing collection of toys. So space is at a premium.
De cluttering is something I want to do but I struggle with it. I never know where to start. And I struggle with getting rid of kids things since we are sure are family is complete yet.
But enough is enough. And after Christmas (we have lots of generous family) we realized that some things just needed to go. And they went. I went through my clothes and got rid of two garbage bags full of things either too big or things I haven't worn in over a year. Jon got rid of two garbage bags full of clothes as well. We had a few bags of kids clothes left over from a tag sale (things I either never dressed my kids in or things we had too much of) and they went out the door. We even pared down the toys a little. The Boys and Girls Club was coming through our neighborhood and that was incentive enough for us. We pared down the amount of stuff in our house and things were donated to a good cause.
I love my house. I struggle with storage in it. Hopefully this latest purge will help me keep the amount of stuff in my house down. But with three kids that could be difficult!