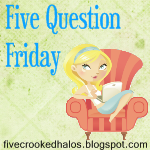 1. Do you feel guilty spending money on yourself? Yeah I do. I always second guess anything I buy for myself, even when I am using my blow money =) It all started when I stopped working full time and stayed home to raise my kids.


2. How well do you know your neighbors? Not really all that well. I know one yells a LOT lately and recently found out he is manic depressive, but I don't really know him.


3. What age are you looking forward to being? Hmm, I kinda like being 30 which is a shock because I did NOT want to turn 30. But I have three great kids, a wonderful husband, a house, a dog,a great part time job, my masters degree and I get to be a stay at home mom. Life is good!


4. Do you get excited when the mail comes? Why? Yes, I am always hoping one of my magazines will come and give me something new to read. Usually I am dissapointed by the bills though.


5. What is your earliest childhood memory? Playing in my bedroom in our first house, I lived there from the time I was 2 1/1 until I was 4 1/2. It is a general memory, I don't remember a specific date but I do remember playing there.
This is my first time linking up with Five Question Friday at My Little Life